Our organization is completely run by volunteers–people like you.
Everyone from our President to our foster parents aren't monetarily compensated, and without people like you we couldn't exist.
So whatever your time commitment restraints are, we have a position for you. Click the button to fill out an application.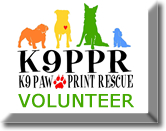 We are always in need of new Fosters.
K9 Paw Print Rescue runs on foster homes and we cannot exist without the support of its dedicated and loving foster homes. The rescue provides all items needed for the health and well being of the foster animal. Each of our Foster Parents will need to go through a training class to make sure that everyone is aware of our policies, and how the rescue organization is run.
If you are not able to make a long term commitment to owning a dog, fostering is a great way to help. Foster animals can be in your care for a few weeks to a few months depending on the situation.
Some fosters are in need of a home to recover from surgery or other medical problems. We fully support the animals while in foster care with food, bedding, bowls, toys and medications if needed.
Many families love to foster so that they can teach their children the responsibility of caring for an animal. Click the button to fill out a form.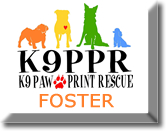 DONATE!
As a non-profit organization, we are in constant need of day-to-day items  to keep our foster dogs in good health and our rescue program running at peak efficiency.
We understand if you are unable to adopt,  foster, or volunteer your time with us. Why not consider donating dog food, treats, potty pads, toys, or beds to help us provide a safe and comfortable environment for the animals we save? Please bring donations to any of our events.
All donations are greatly appreciated, and tax deductible!  You can make a one-time  donation through PayPal directly by clicking the donate button below.
EVENTS!
K9 Paw Print Rescue has regular monthly adoption events, as well as fundraising and social events throughout Contra Costa County year round. We are always looking for volunteers to help with both setup and break down of these events as well as dog wrangling, staffing our information booth, and general event logistics.